INMODE DIOLAZE LASER HAIR REMOVAL
WHAT IS DIOLAZE?
Diolaze is an advanced laser hair removal technology innovated by InModeMD designed to eliminate the pain of laser hair removal with its built-in cooling technology.
HOW DOES DIOLAZE WORK?
Diolaze safely and gently eliminates unwanted hair with an advanced laser hair removal treatment by permanently destroying the root of hair follicles. The Diolaze technology covers a large treatment area, which makes treatments convenient and quick. During laser treatment, a diode laser beam is targeted towards the hair follicles. The penetrating energy then heats up the root of the hair, effectively destroying that root and preventing future hair growth.
WHAT AREAS OF THE BODY CAN BE TREATED WITH DIOLAZE?
InMode Diolaze has proven to be successful in developing safe hair removal systems. Diolaze is extremely safe with zero side effects and can be used safely on almost all areas of the body that have unwanted hair. The Diolaze system contains a sophisticated monitoring technology with automatic shut off systems designed specifically to protect your skin from over-heating.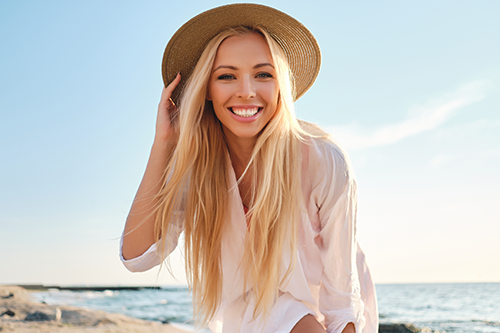 WHO IS A CANDIDATE FOR DIOLAZE?
Diolaze can be used on anyone that has unwanted hair on almost any area of the body. It is safe and effective for all skin and hair tones and types, although results vary based on these traits.
HOW LONG DOES DIOLAZE TAKE?
Your treatment time of course depends on the size of the area being treated. An upper lip treatment will take only about 5 minutes, whereas a treatment on both legs might take up to 45 minutes.
Diolaze needs to be performed every 4-6 weeks until the final results are achieved. Most patients need 4-6 treatments, but this varies depending on multiple factors, including the thickness of your hair, skin color, hair color, and how much hair you want removed. Multiple sessions are required because Diolaze (and any hair removal technology) can only treat hair follicles that are actively growing, and only about 20-30% of your hair follicles are active at any given time. The 4-6 week waiting period is set to ensure that the next group of hair follicles is active.
DO THE RESULTS FROM DIOLAZE LAST?
Although permanent results are not guaranteed with any type of laser hair removal, the majority of patients see long-term hair reduction with permanent results. Laser hair removal is FDA approved for permanent hair reduction, not permanent hair removal, so patients should be aware that there is a possibility of some amount of hair regrowth, but it will be significantly less than prior to the treatment.
DO I NEED TO PREP FOR MY DIOLAZE TREATMENT?
Prior to your Diolaze treatment, you will need to let your unwanted hair grow out for a few days if you normally shave it. If you normally wax the area, you will need to wait a week or 2 until some hair has grown back to the area. You will also want to stay out of the sun- real or tanning bed- or use sun protection, and hydrate well. Well hydrated skin is proven to be healthier and promote faster healing.
WHAT IS THE BENEFIT OF DIOLAZE?
Unlike traditional methods (waxing, shaving, bleaching, or using depilatory creams), Diolaze laser hair removal impacts the root of the problem, rather than offering a temporary solution. Traditional methods will require treatment forever, while Diolaze only requires a few sessions.
Most patients immediately notice a significant reduction in hair growth after a few sessions and eventually smooth and hair-free skin.
Get beautiful smooth skin with the most advanced laser hair removal solution.