HydraFacial
HydraFacial treatments will reveal a more radiant, supple complexion!! This three-step skincare treatment uses only medical-grade products to help nourish dry, tired skin. HydraFacial clients will see an improvement in their skin after the treatment. They'll have fewer wrinkles, softer skin, improved texture, and radiant-looking-skin.
HydraFacial, like all of our other facial treatments, follows a similar treatment plan. This involves cleansing, exfoliating, extracting, and infusing professional serums that target whatever skin needs you might have.
Using patented technology to expertly cleanse, extract and hydrate the skin while using customized skin serums to target your specific concerns, this treatment is designed to get your skin glowing in under an hour.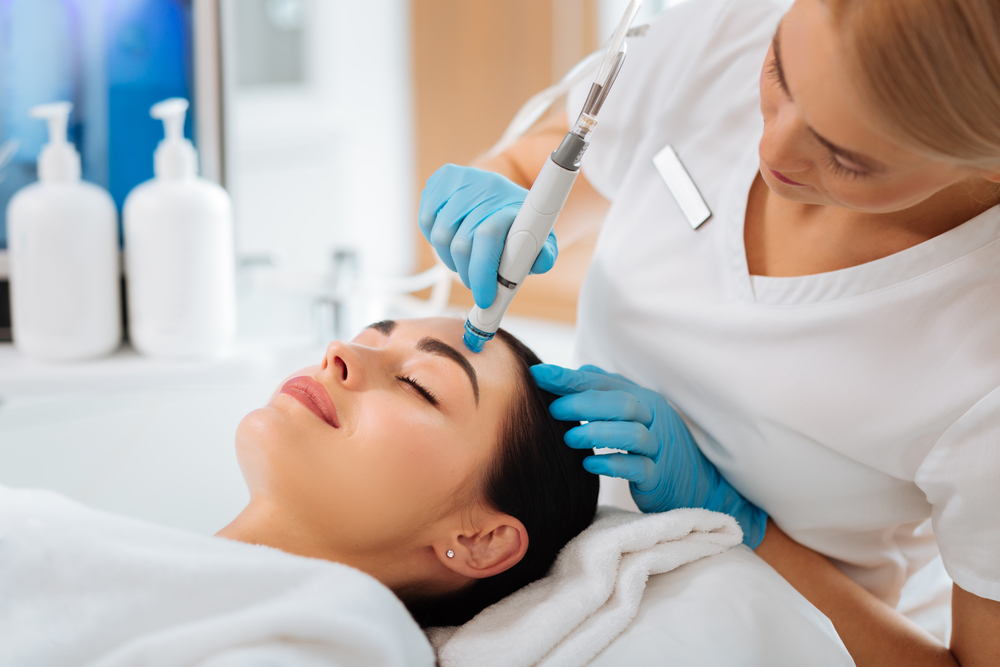 Frequently Asked Questions
How does the HydraFacial work?
The HydraFacial uses a unique, patented process that combines the power of water with gentle exfoliation to cleanse and polish skin. A handheld device gently glides over your face to extract dead skin cells and reveal radiant, healthy-looking skin.
Cleansing is the first step in a facial. Water-based solutions are used, which open pores and gently remove the superficial layer of dead skin cells. After cleansing, glycolic or salicylic acid can be applied to exfoliate the skin. Once that's done, vacuum suction removes stubborn debris and cleans clogged pores with skincare products designed specifically to target your specific skin concerns.
Next, your medical provider applies a highly customized chemical peel solution. Finally, a customized skincare serum rich in hydrating ingredients, antioxidants, and peptides washes over the skin using the same handheld device. To achieve maximum results, our aestheticians will use add-ons or boosters, such as LED light therapy, can be added to enhance the radiant glow of your complexion.
How often can I receive the HydraFacial?
It is generally recommended to receive a HydraFacial once a month.
What concerns does a HydraFacial address?
The HydraFacial is highly customizable. A medical provider evaluates your skin concerns to determine the most effective cocktail of serums and professional products to use. If you are noticing skincare concerns such as fine lines and wrinkles, skin laxity, uneven texture and pore congestion, the HydraFacial may be an effective treatment for you.
When do you see results?
Results are immediate! After your appointment, you will notice that your skin appears firmer, more hydrated, and smooth. The hydrating-rich products help bring new nutrients to your skin cells, creating a healthy glow that's visible for weeks.
How does a Medical Facial differ from a facial at a day spa?
Medical-grade facials address skin concerns on a deeper level because of the professional products used. Products may be prescription-strength and contain a higher concentration of active ingredients. In a medical setting, we also can enhance the treatment with medical-grade lasers and peels for optimum results.
Who is a good candidate?
If you are experiencing dry, aging skin, uneven skin texture or skin laxity, HydraFacial may be an effective treatment.
In addition, we highly recommend HydraFacial for men and women who are acne-prone or have high skin sensitivity. Unlike other manual exfoliation treatments, the HydraFacial uses water as the exfoliation medium to gently rid the skin of dead skin cells, revealing freshly hydrated skin underneath.
Who is not a suitable candidate?
If you need a deeper level of skin resurfacing, the HydraFacial may not be the best treatment option for you as it is on the gentler side of exfoliation treatments. You may be better suited for a laser treatment or chemical peel. Also, anyone who has a contact allergy to shellfish should avoid this treatment, given one of the ingredients within the treatment regimen.
Like with all skincare treatments, a trained and licensed skincare professional a HydraFacial should administer a HydraFacial; training is required to properly analyze the skin, customize the treatment, and spot abnormal reactions. During a complimentary skin consultation, your medical provider will review the best skincare routine and treatment plan for optimal results.
Why Beauty from Ashes MedSpa?
After a decade of patient care experience collided with a true passion for aesthetics, Beauty from Ashes Aesthetics was inspired and founded by Jorden McPhee, APRN.
As a certified Nurse Practitioner, Jorden offers her patients a diverse combination of experience, knowledge, and personal attention. Jorden's passion is educating her clients about how professional aesthetic treatments and quality skincare products work synergistically to provide optimal skin health and appearance aimed to help every guest feel confident and beautiful from the inside out. She has an amazing team of aestheticians very best skincare & beauty industry experience. Together they ensure to remain at the forefront of medical advances and anti-aging innovations that transform skin health and body aesthetics.
With the new location in Brandon, Florida, we focus on comprehensive, results-oriented, and highly customized professional aesthetics that promote optimal health and personal care. We tailor our premium services to meet the specific, personal concerns of our discerning clients – so you always see your best reflection in the mirror.